09-26-2019
ASD-Lighting is pleased to announce Spectrum Lighting and Controls as our new Representative in E. Arkansas, N. Mississippi and W. Tennessee.
Spectrum Lighting and Controls provides world class service to electrical and lighting distributors as well as lighting contractors and designers.
Their qualified and dedicated staff of lighting experts are ready to help you select the right ASD-Lighting fixture for your every need.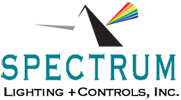 Contact Info:
1375 West Brierbrook Rd.
Germantown, Tennessee 38138
PH: 901-590-1750
FX: 901-590-1757