11-17-2017
Introducing New LED Canopy Lights in three Different Variations
ASD Lighting Is On Its Way to Become the One-Stop Shop for All Your Commercial and Residential Lighting Needs By Offering a Versatile Selection of Canopy Lights
Canopy lights are perfect for outdoor locations, such as gas stations and walkways, but they are also great for garages and workshops. Understanding the varying needs of our customers, we have introduced three different varieties of highest quality LED canopy lights. Here is all there is to know about the new canopy lights we are offering.
LED Garage Canopy Lighting (Model: CAN02)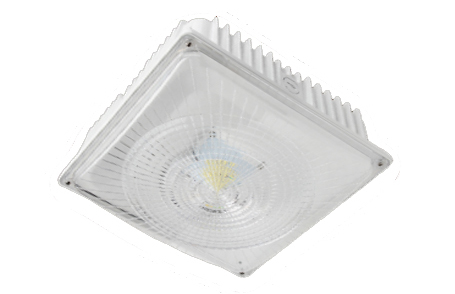 This innovative new LED allows the perfect white light distribution needed for DLC garage certification. The product is an upgraded version of its predecessor, the CAN01 Canopy lights.
CAN02 is the ultimate choice for storage facilities, commercial stores, garages, outdoor spaces, and walkways. These lights produce white light, illuminating a large area while cutting energy expenses.
One of its key features is the high quality Polycarbonate lens with high heat resistance. The body is sturdy and water resistant, which makes it perfect for indoor and outdoor use. CAN02 LED Garage Canopy does not require a lot of maintenance and it easily operates in extreme temperature.
LED Garage Canopy with up-light (Model: CAN02L)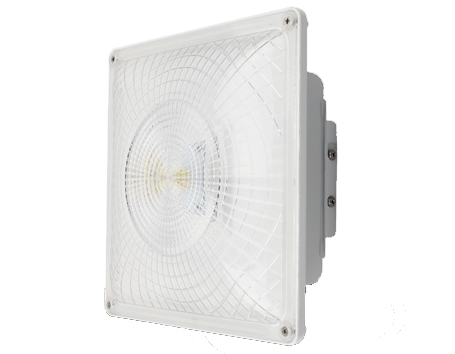 ASD's newest addition to its list of fine products is the LED Garage Canopy with up-light (Model: CAN02L). This product is more than just a canopy, as its innovative design allows it to emit light in both directions in a way that it highlights the entire ceiling. The model CAN02L is currently available in 35W and 55W models in 4000K available.
ASD always provides its valued customers the best product and the most outstanding customer service. LED Garage Canopy with up-light is the ideal solution for illuminating gas stations, entrances, walkways, and other broad and open spaces.
The LED Garage Canopy with up-light are made of heavy duty die-cast aluminum that gives them better protection from weather and corrosion.
Slim Series LED square Canopy (Model: CAN03F)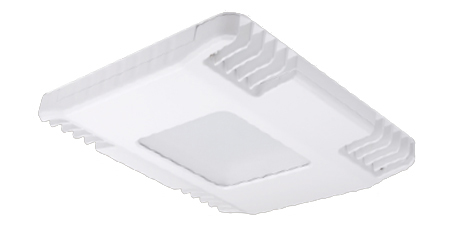 The square canopy light is specifically designed with a thin profile. The unique design protects the light from dust ingress and low-pressure water jets. It is a perfect choice for gas stations, warehouses, underground areas, low to medium bay industrial units and soffits. Slim Series provides the best lighting solutions for any type of outdoor location without compromising aesthetics.
Other than canopy lights, ASD lighting also offers a wide range of LED lighting solutions for both, industrial and commercial properties like, hotels, schools, airports, hospitals, parking garages, warehouses, and retail stores.
The state-of-the-art products introduced by ASD will improve the character of your home or business. ASD ensures quality and keeps its products locally stocked in order to cater to your urgent needs.