05-17-2016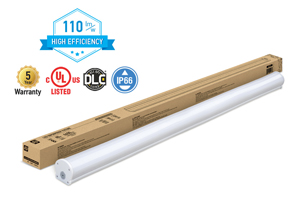 ASD Lighting introduces our low profile, high efficiency 110lm/w seamless vapor proof fixture. Our Seamless vapor does not look like your typical vapor so it is able to be used in a wider variety of applications.
Our one price body is made of durable polycarbonate and will not change color or lose luster over time.
Our fixture is IP66 rated and UL listed for wet locations as well as DLC qualified for utility rebates and is designed to withstand harsh environments with dust and water. This fixture is perfect for garages, car washes, tunnels and stairwells. Our vapor comes with 2 stainless steel mounting clips that can be easily surface mounted or suspended by a chain or pendant mount. All of these models come with ASD's 5 year warranty and a 100,000 hour LED life span and require no maintenance or bulbs to change reducing your overall costs significantly. Our Seamless Vapor has a white finish and is available in 3500k, 4000k and 5000k.